Posted on
By Christina Stappas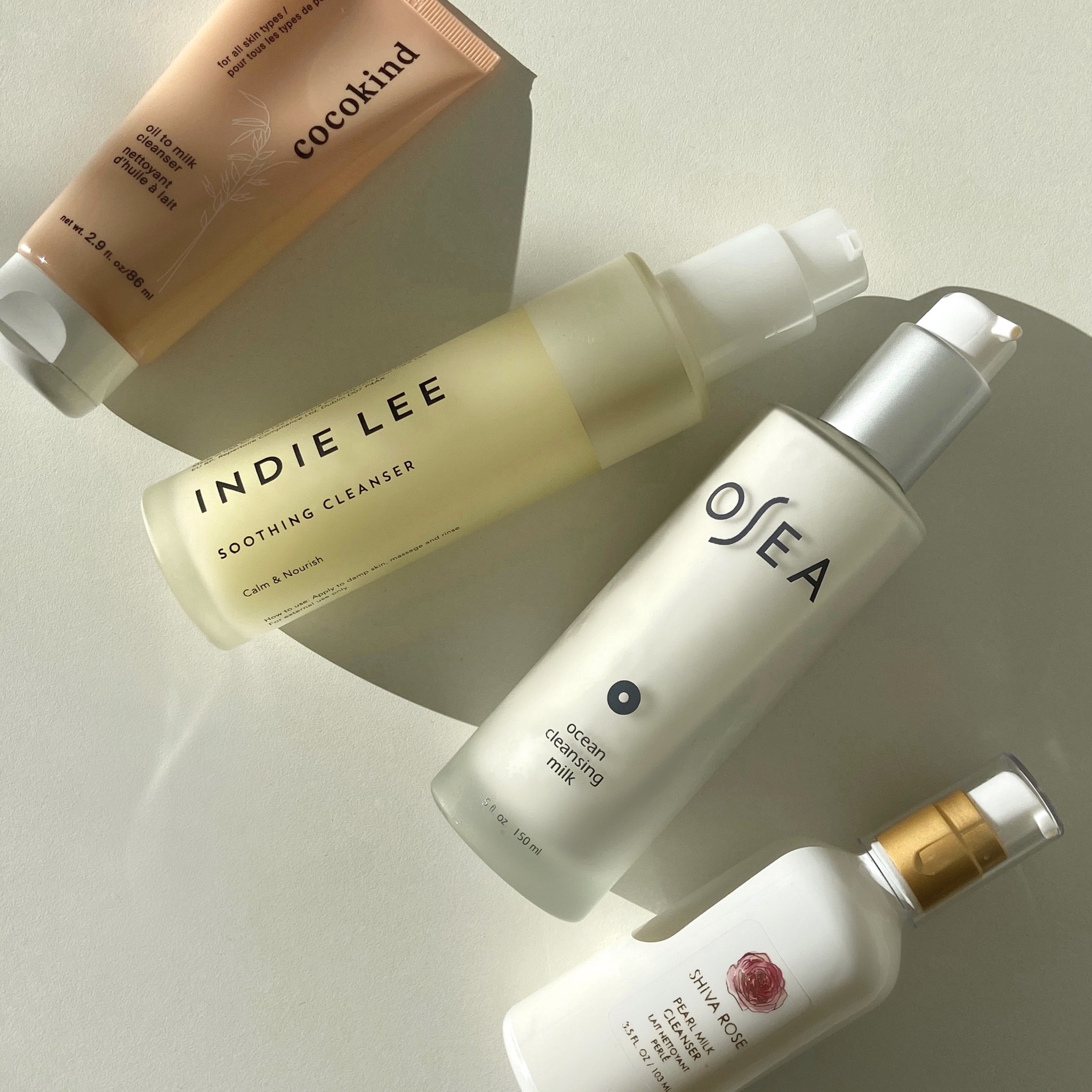 Milky cleansers are a staple for the sensitive baby face in you.
Milky cleansers are a staple for the sensitive baby face in you. Essentially, they purify the skin without  stripping it of its natural moisture barrier. Rather than drying out the skin with a generic gel cleanser, milky cleaners have a unique creamy formula that nourish and hydrate resulting in a glowing supple complexion. These cleansers are especially suited for all the sensitive gals out there because the milk like texture soothes any irritation from rosacea, dermatitis or acne, leaving you with clean baby soft skin.
Here are some of our favourites:
The ultimate soothing cleanser for dry or sensitive skin types, enriched with water lily and rose to visibly reduce redness and restore moisture. This cleanser can also be used to remove makeup and debris from environmental stressors. A ph balanced and fragrance free  formula that calms and purifies gently with a dreamy texture that leaves you silky smooth.
A gentle multi use cleanser formulated with pearl powder and hyaluronic acid to plump the skin and diminish the appearance of fine lines and wrinkles. Pearl powder is an all star ingredient that has been used for hundreds of years by Indigenous,  South East Asian and Egyptian communities to deliver skin quenching minerals  and antioxidants. This key ingredient fights the appearance of aging, sagging and restores the elasticity in our skin.  Grapeseed oil and avocado oil nourish and  hydrate while Black willow bark decongests pores and gently exfoliates to reveal a smooth and luminous complexion. Pro tip: use this cleanser as face mask. leave on for 10-15 minutes to reveal youthful glowing skin.
If your skin is very dehydrated, you will love this cleanser! Infused with Oat straw, this pH balancing cleanser is super calming and doesn't break the bank either. Oat is a cult favourite ingredient in most skincare routines because of its' soothing and healing  properties, not to mention this cleanser is microbiome friendly. The texture of this cleanser is rather unique;  it begins as an oil - gel, once it comes in contact with water it creates a beautiful milky consistency. This cleanser also works great for removing dirt and grime from a long day, There are two methods when using this cleanser, you can either apply on damp skin, or you could use on dry skin, massage for about 30 seconds in circular motions, and then rinse. The second method is best for dry and /or blemish prone skin types,  this oil cleansing technique is ideal for unclogging pores and lifting dirt from below the surface level.  
If you're feeling irritated, or suffer from extreme sensitivity, this cleanser will be your best friend. Formulated with skin quenching ingredients like  RoseDamascena And Roman Chamomile to calm redness and reduce inflammation. Infused with PHA (Polyhydroxy Acid) to nourish and lightly exfoliate to improve the appearance of texture, as well as Oat Kernel Oil, an antioxidant rich ingredient that protects and soothes the skin from environmental stressors and pollution. Gentle enough to wash away makeup and impurities, this cleanser will leave your skin plump and glowing.